NEWS
Smith Events Burns Supper at The Marcliffe
A lovely time was had by all at the Smith Events Burns Supper at The Marcliffe, Aberdeen.
Pictured: Harry (Pianist) and Moira Docherty, Soprano, Harvey Smith, Smith Events, Irene Watt, harpist & Frank Robb, speaker.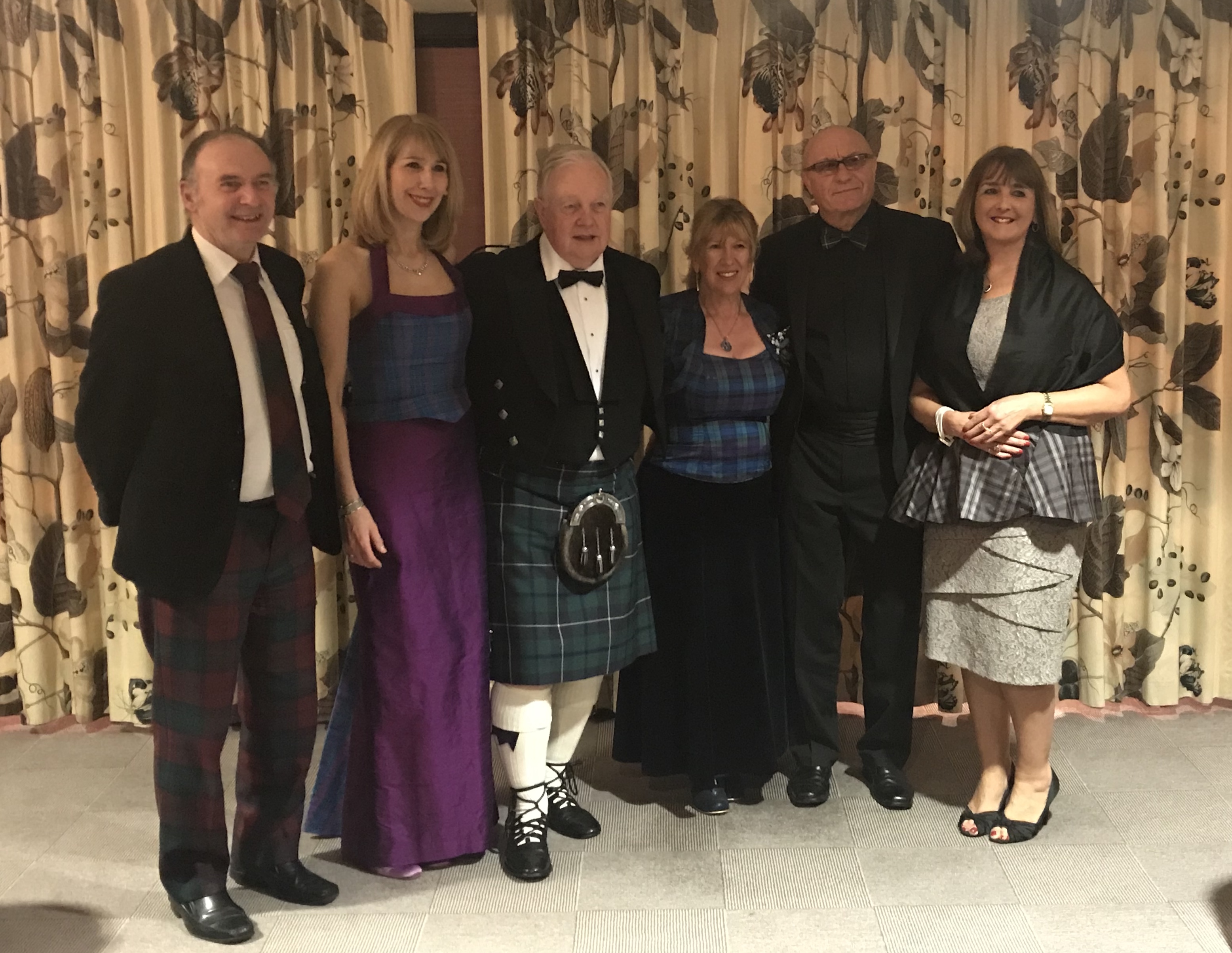 ***
The Wooden Spoon Burns Supper
Super night at The Wooden Spoon Burns' Supper, Edinburgh.
Pictured: Robyn Stapleton, singer, Bill Copeland, speaker & compère for the evening, Brian Donald.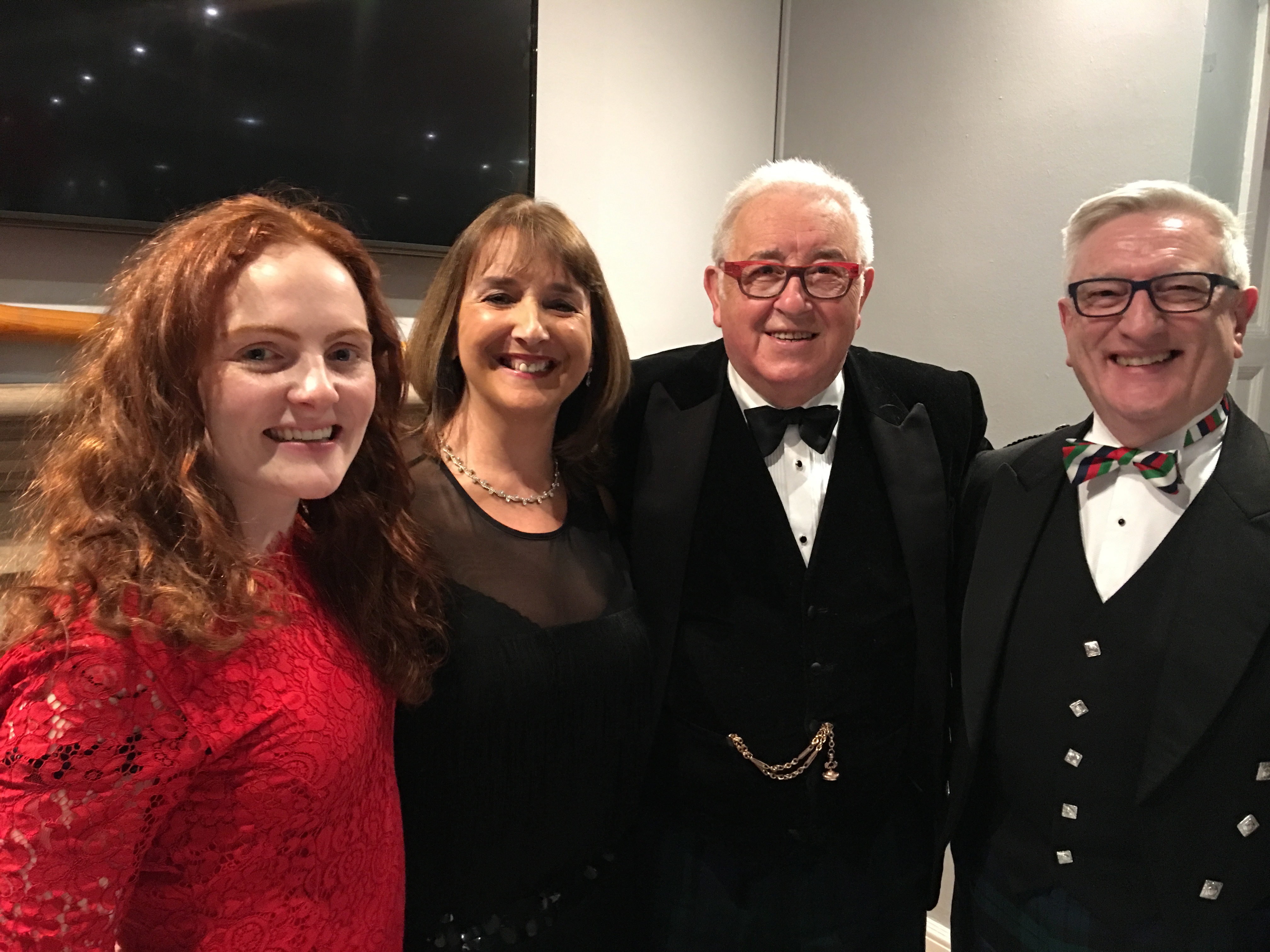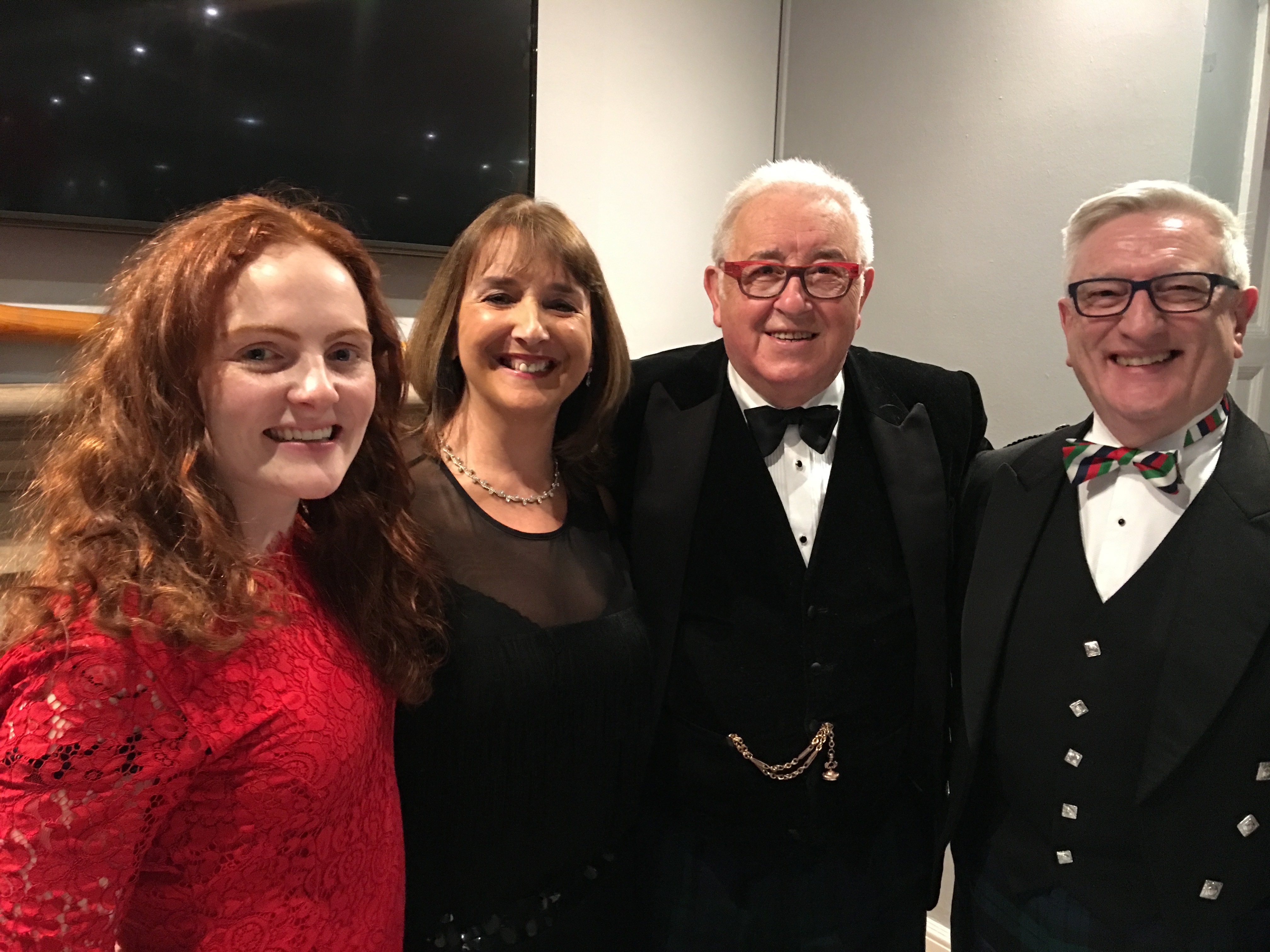 ***
Banff Academy
Hid an interestin day at Banff Academy spikkin till a great group o 1st years aboot oor Doric dialect, and then deliverin a writin workshop te some S6 students. Banff Academy hiv the option te study fir a Scots Language Award taught by Dr Jamie Fairbairn. The young folk were fantastic, and I'm pleased te report aat Doric is definitely aye alive an kickin!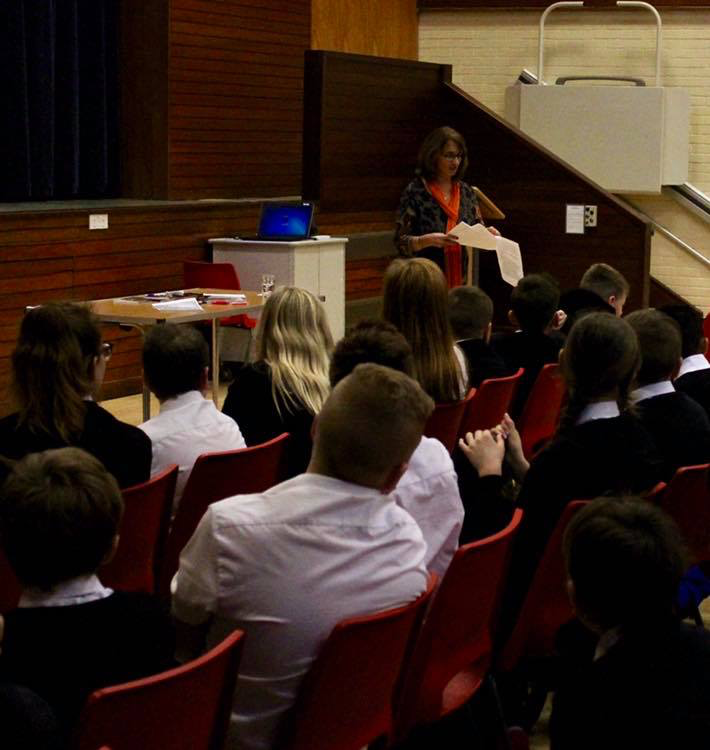 ***
1000 likes on Facebook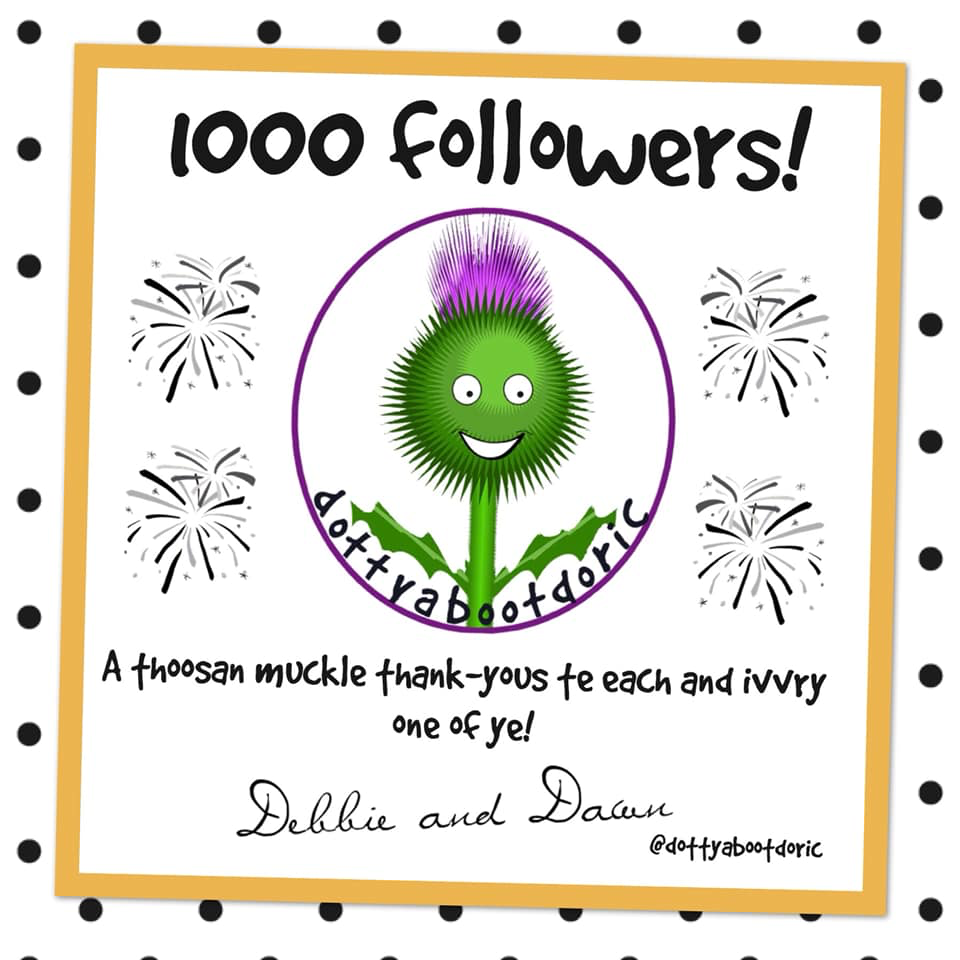 ***
Hareshowe fairmhoose
A gweed turnoot fir the Doric readins at Hareshowe fairmhoose, at Aden Park, Mintlaw.
Pictured: Joanne Edward fae Aiberdeenshire Cooncil.

***
Methlick Friendship Club
Hid a gran aifterneen bletherin an fly-cuppin wi the members o Methlick Friendship Club.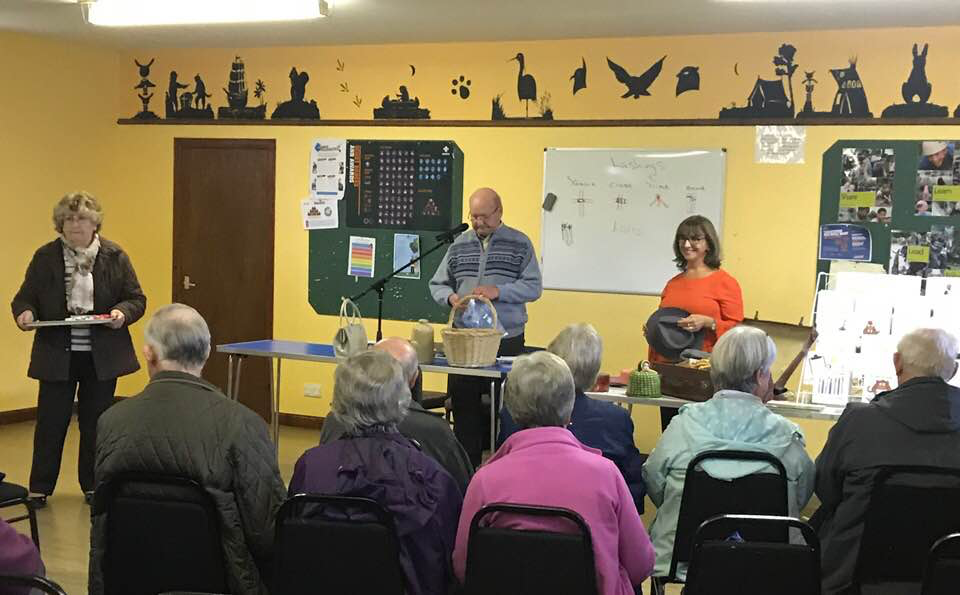 ***
Doric Call my Bluff
Hid a fine Friday nicht at Macduff Library's 'Doric Call my Bluff' – pairt o Aiberdeenshire Cooncil's 'Across the Grain' festival. Pictured: Barbara Forbes, Dr Jamie Fairbairn an masel. Wi thrashed the Library team 9-3.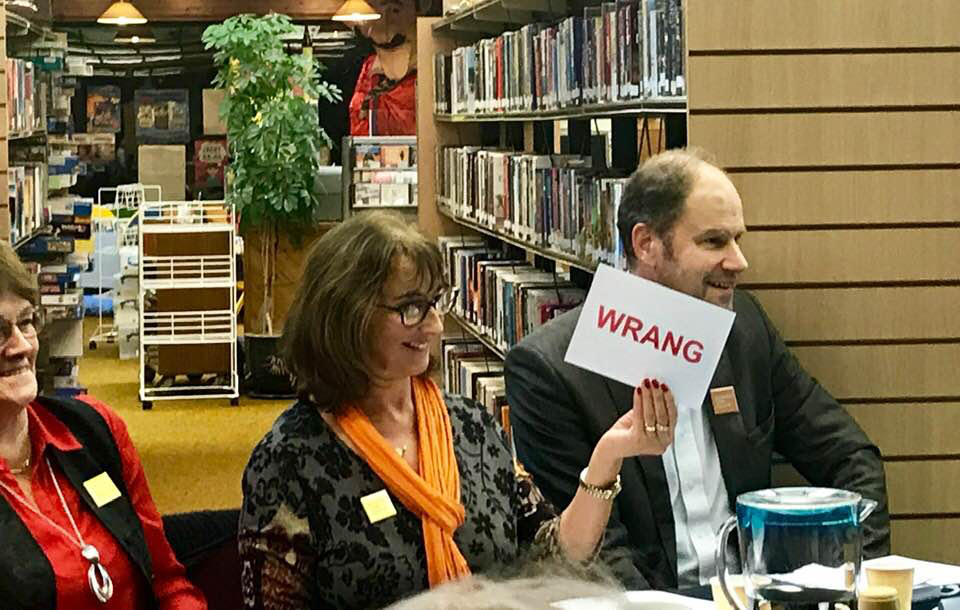 ***
Tarves F.C.'s fundraising dinner
Hid a gran time spikkin at Tarves F.C.'s fundraising dinner and casino night at Lochter.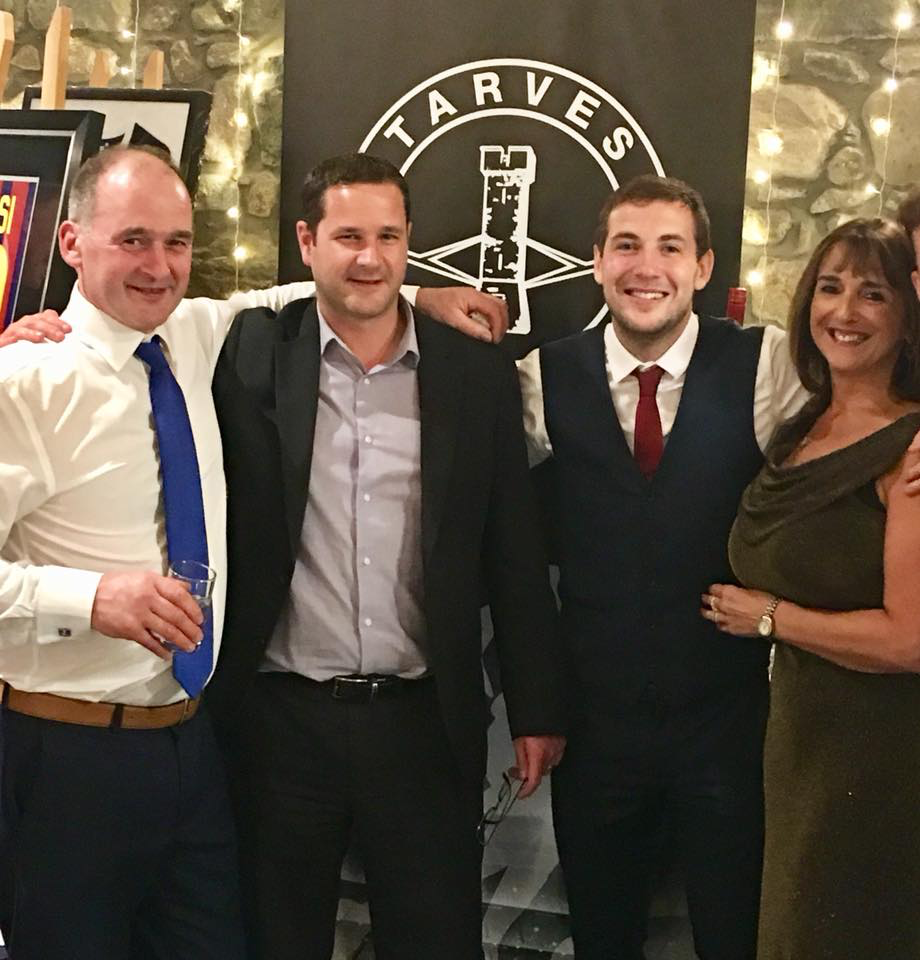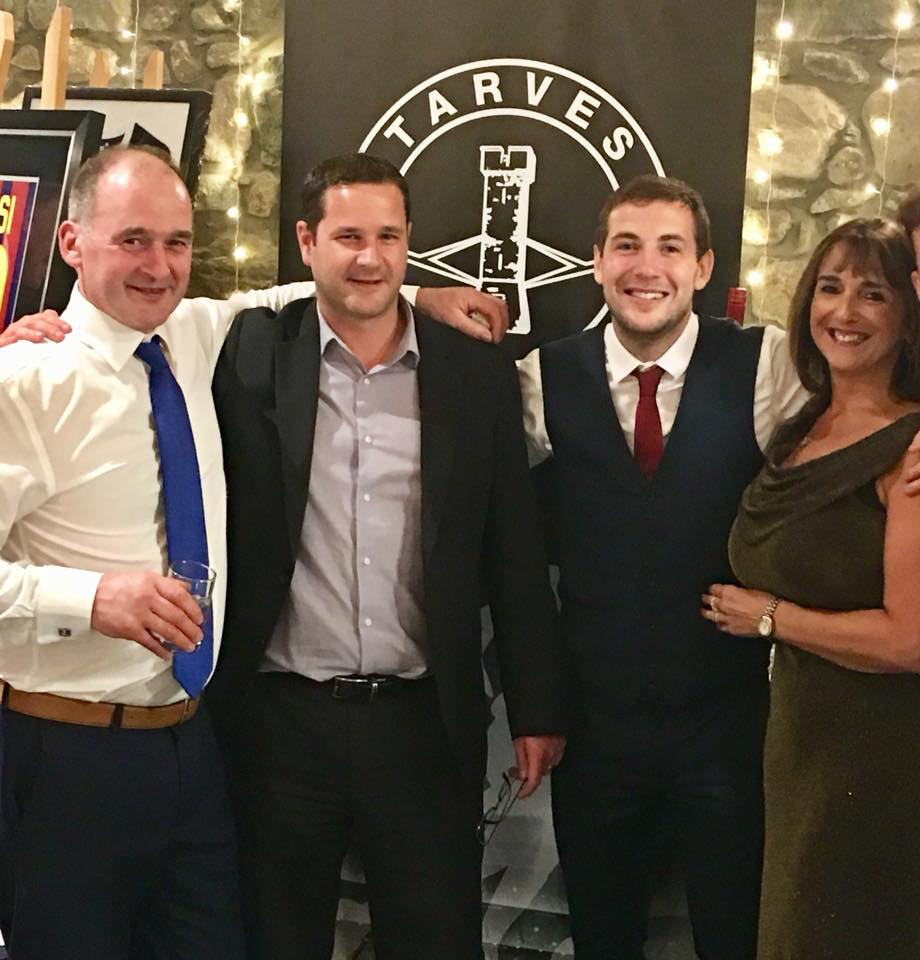 ***
                               

The Gallery in Aberlour
Wi're fair trickit te announce that dottyabootdoric cairds hiv anither new stockist –
The Gallery in Aberlour.        Pictured: proprietor, Kerry.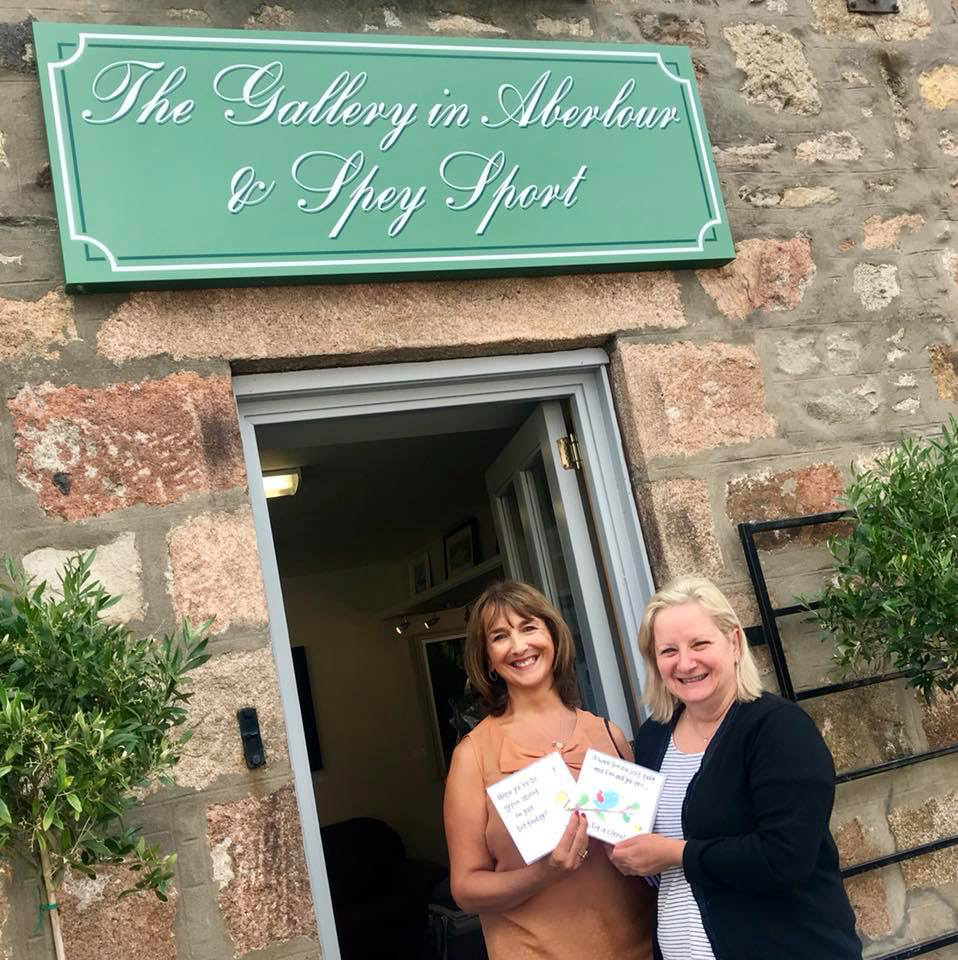 ***
   'Tea & Tipples in Turriff'
Had a brilliant Sunday afternoon acting as MC for the day at Turriff District Agricultural Association's charity fundraiser 'Tea & Tipples in Turriff'. Lots of cash was raised for Charlie House & others. Pictured: organizer, Sarah Sleigh with her husband John, President of this year's Turriff Show. Entertainment was fab with red-hot fire artiste, Ahmed Manny raising the temperature and music from Ziggy & Toni keeping the dance floor full all afternoon.

***
                                          New birthday cairds
We're delighted te announce twa spleet-new birthday cairds…. in shops and available te buy online from today. Click 'Shop Now' —> te get them delivered right te yer door, or check oot our list of stockists across the North East.
***
Fair trickit te announce aat dottyabootdoric hiv a new stockist: Baird's Pharmacy Banff. Fit a bonnie shop – lots o lovely gifts, cairds an even a coffee shop. Freenly staff an aa.
😊 Pictured: the lovely Gwen, shop manager.
😊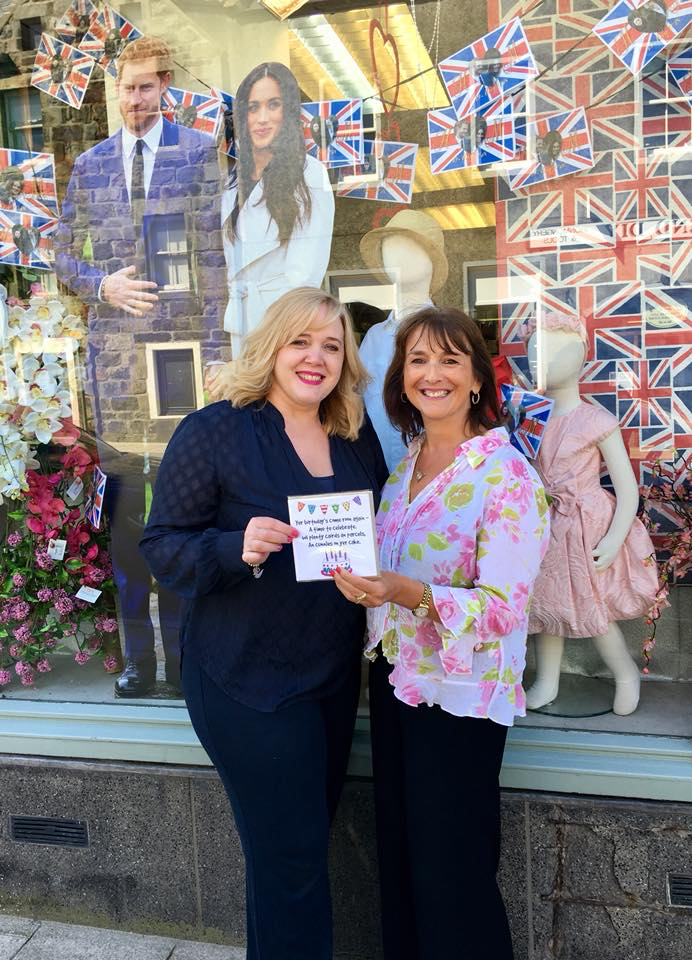 ***
       Portsoy Gift Box
Fair trickit te add Portsoy Gift Box till oor list o stockists. Here's a wee pic. of proprietor, Pauline Benzie takkin deliverin o her cairds. Fit a rare shoppie she's got – full o affa bonnie things.
😊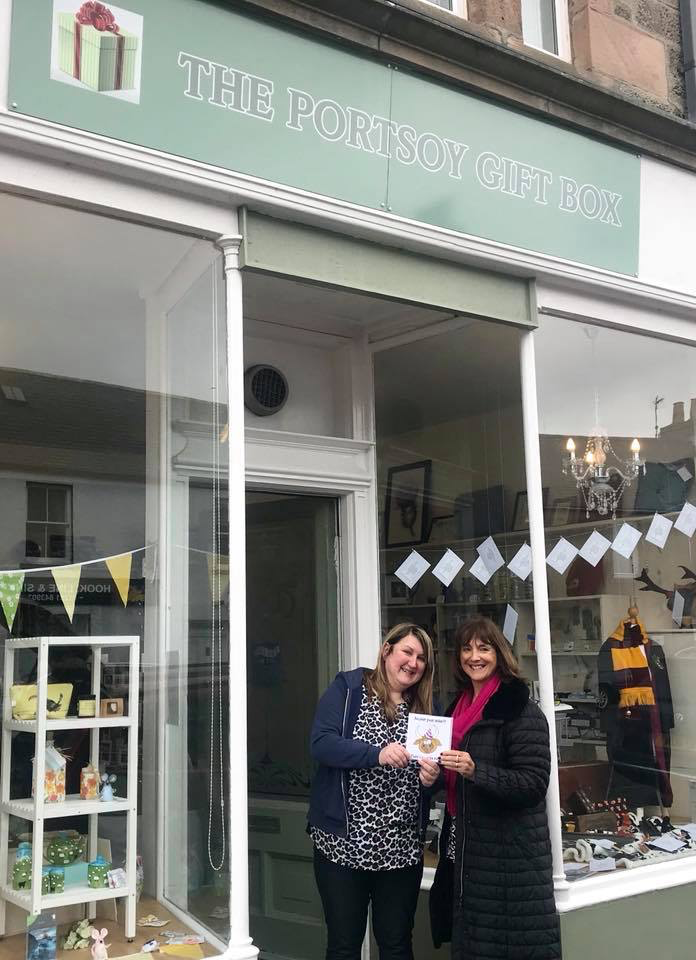 ***
      

A & L Porter Pharmacies in New Deer and Cruden Bay
We wid like te introduce a couple o new ootlets: A & L Porter Pharmacies in New Deer and Cruden Bay. Pictured left to right: Lorna fae Cruden Bay Pharmacy and Angie fae New Deer Pharmacy.
😊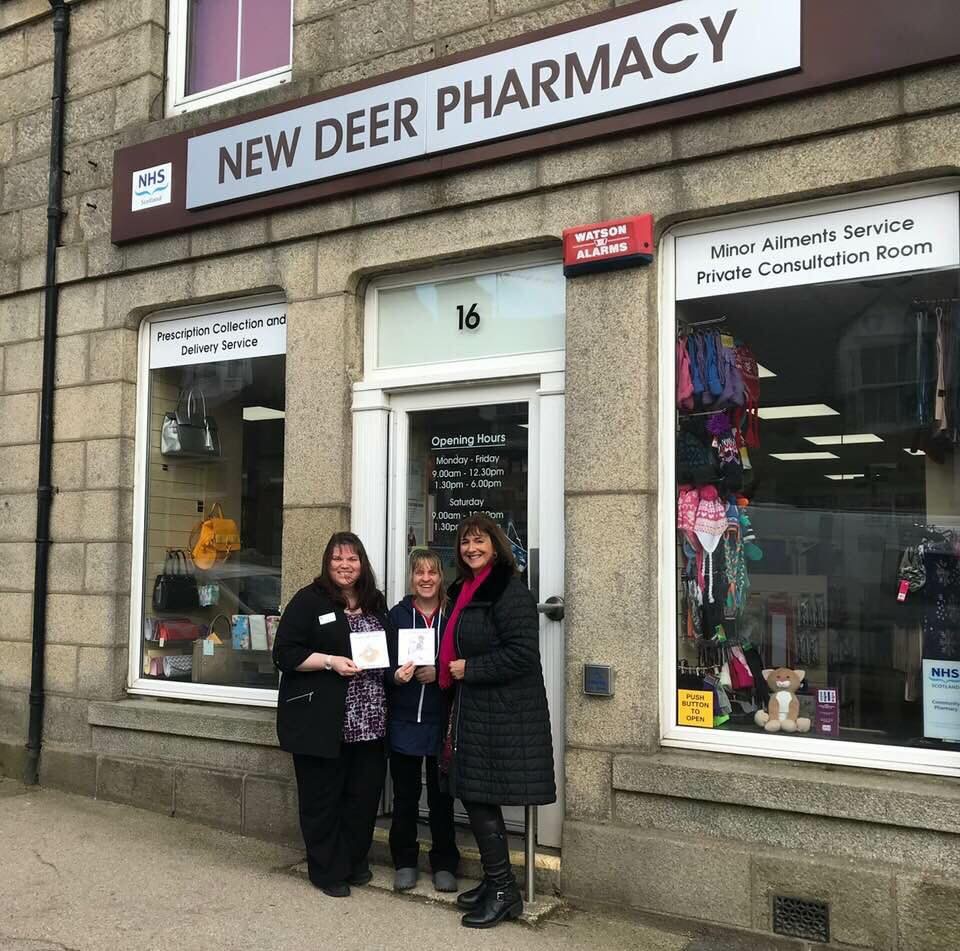 ***
                                            

Author walk in Turra
Had a super morning leading an author walk in Turra as part of Aberdeenshire Libraries' Wellbeing Festival. We shared lots o poems and stories and aa in beautiful sunshine.
😊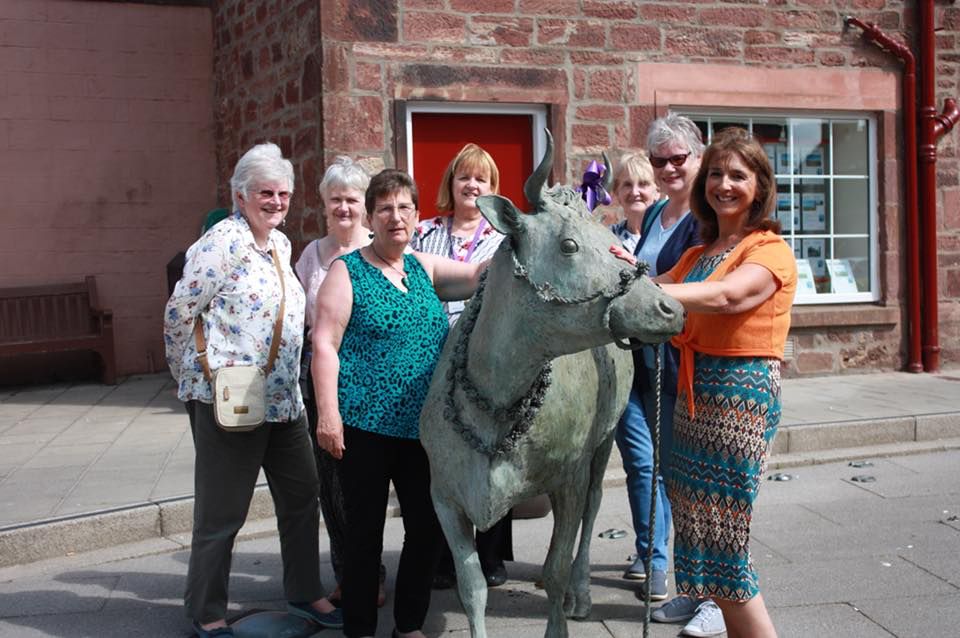 ***
           

Reminiscing with the residents of Mowat Care Home
Had a super time reminiscing with the residents of Mowat Care Home, Stonehaven. We spoke about schooldays and Stoney's rich fishing heritage. Residents also enjoyed listening to some poetry and music.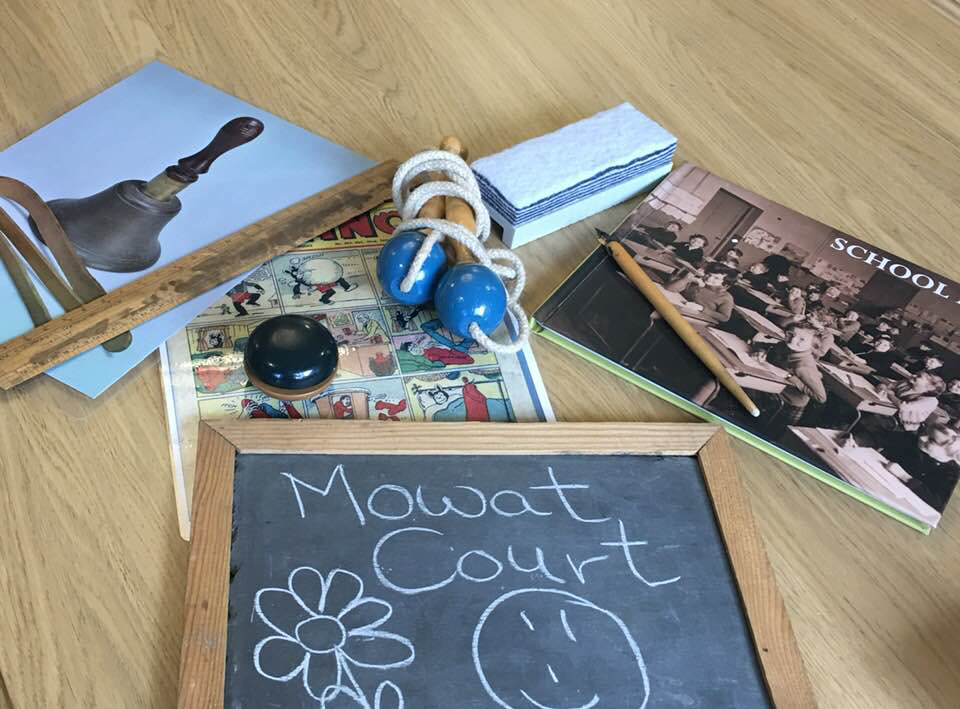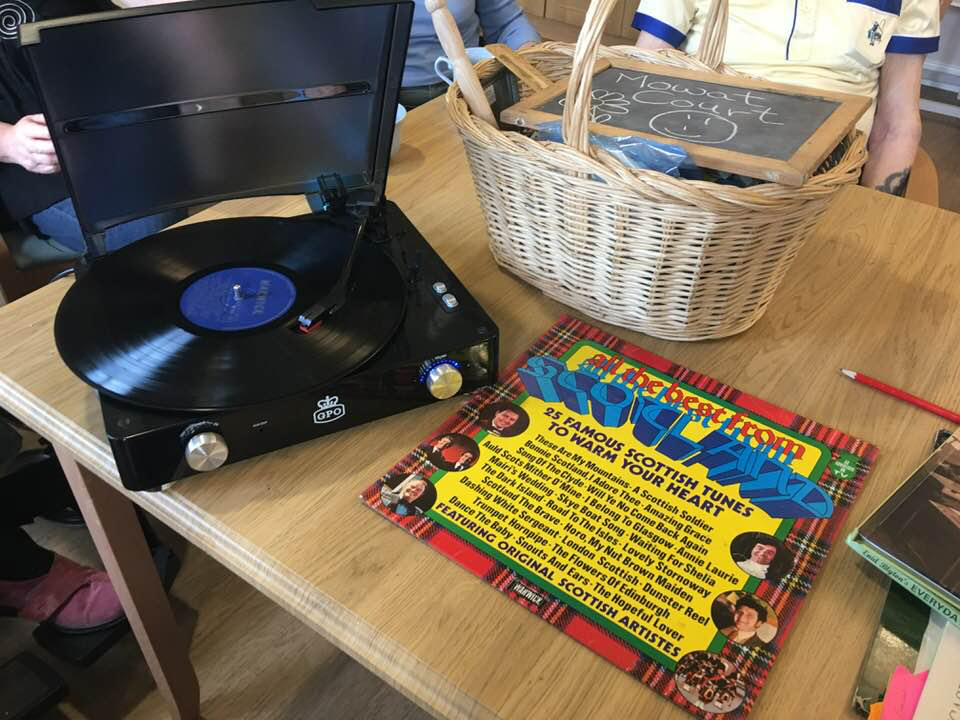 ***
                 

Reminiscence session at Garioch Care Home
Some of the Residents at Garioch Care Home, inverurie enjoying a lively Reminiscence session. We looked at photos, listened to poems, studied some artifacts and enjoyed the music of yesteryear. Nae sure if my DJ skills are up to much, but Jim (pictured at the head of the table) and I even managed a wee dance.
💕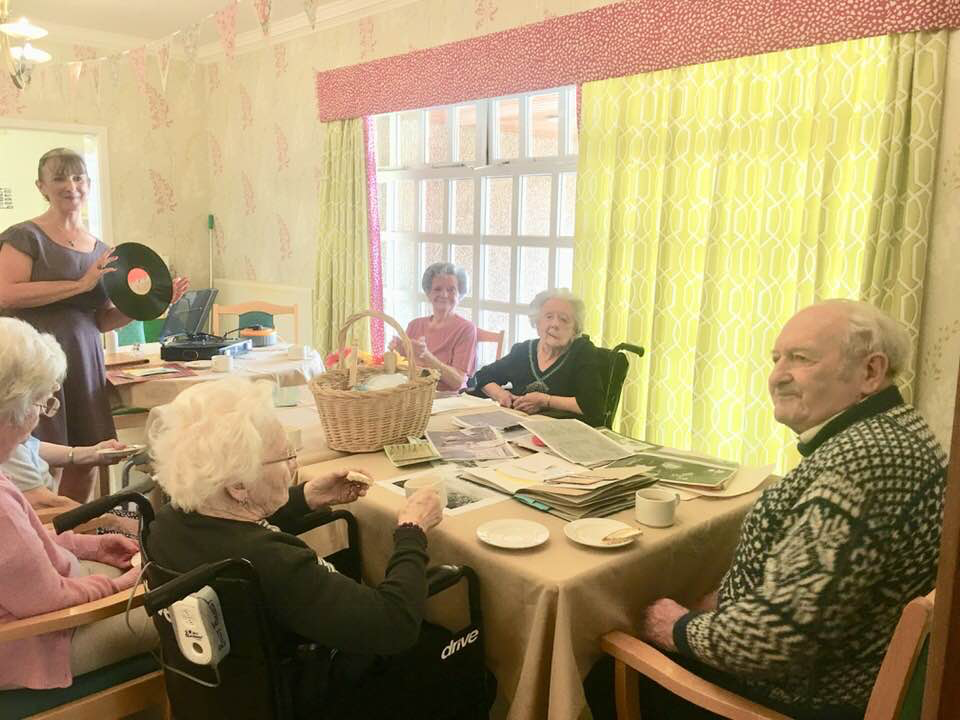 ***
     

Creative Writing session at Aden Park Farming Museum
Had a super afternoon facilitating a Creative Writing session at Aden Park Farming Museum, Mintlaw. The event was funded by Aberdeenshire Council Museum Services and attended by museum employees and members of the public. The group learned about story 'hooks', effective description, characterisation, and also wrote a piece inspired by a box of old buttons.
😊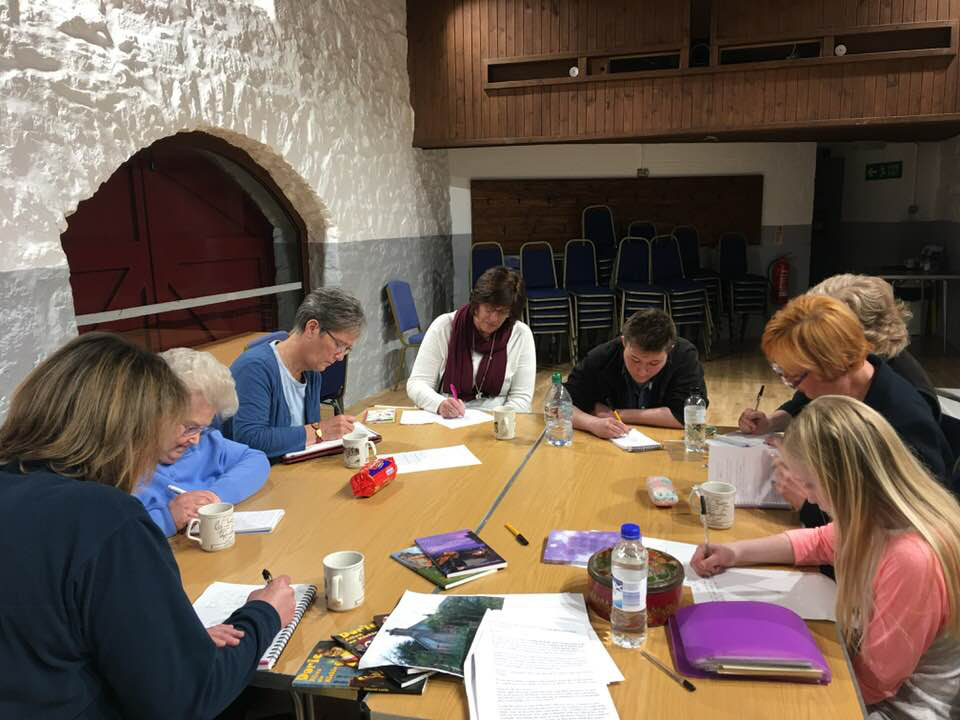 ***
         

Rotary Club of Dumbarton's fabulous charity dinner
Had a lovely time speaking at the Rotary Club of Dumbarton's fabulous charity dinner, which raised a grand total of £9,300 for local organisations. I really enjoyed the company and generous hospitality of Dumbarton Rotary members and friends and also the other speakers for the nightIIain Gordonand compereIIan Miller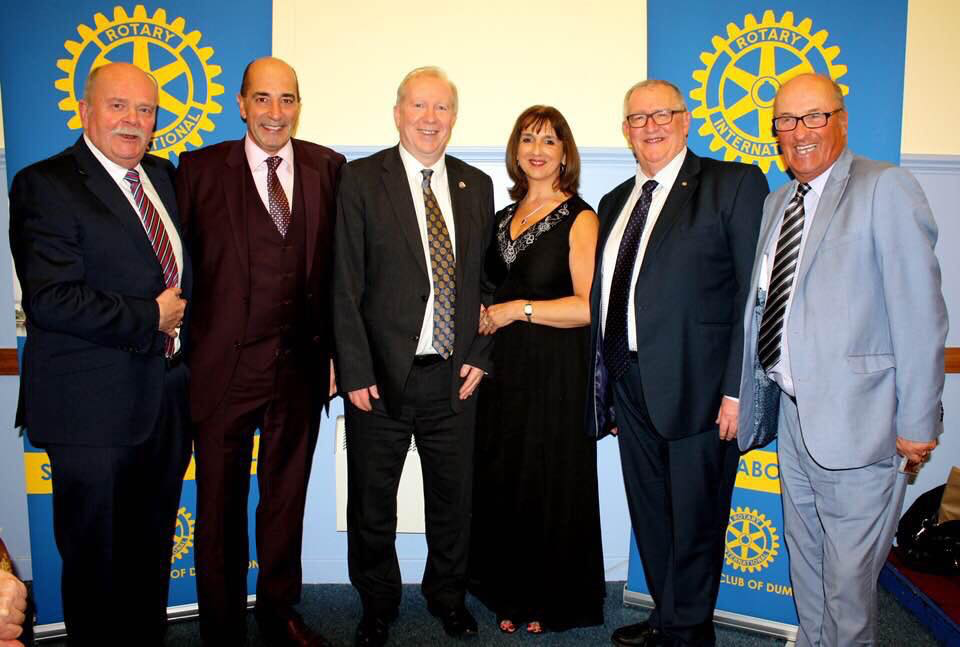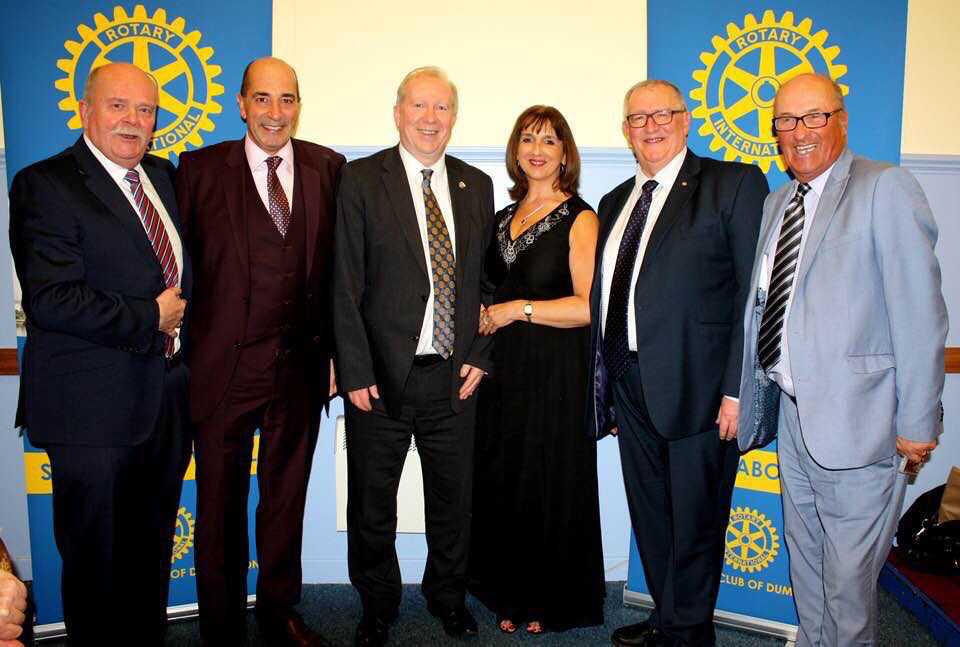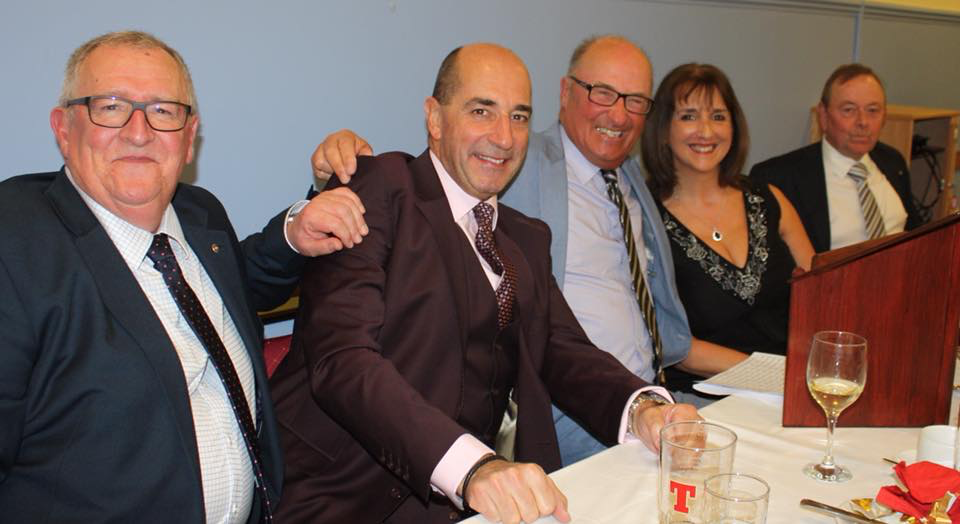 ***
                                     

 Doric writing workshop
Hid a really super mornin wi a lovely P4 class at Aberchirder (Fogie) Primary School. This wis the last Doric writing workshop in a block of 11. Dinna think I'd like te be a teacher, though – I'm wabbit!
😊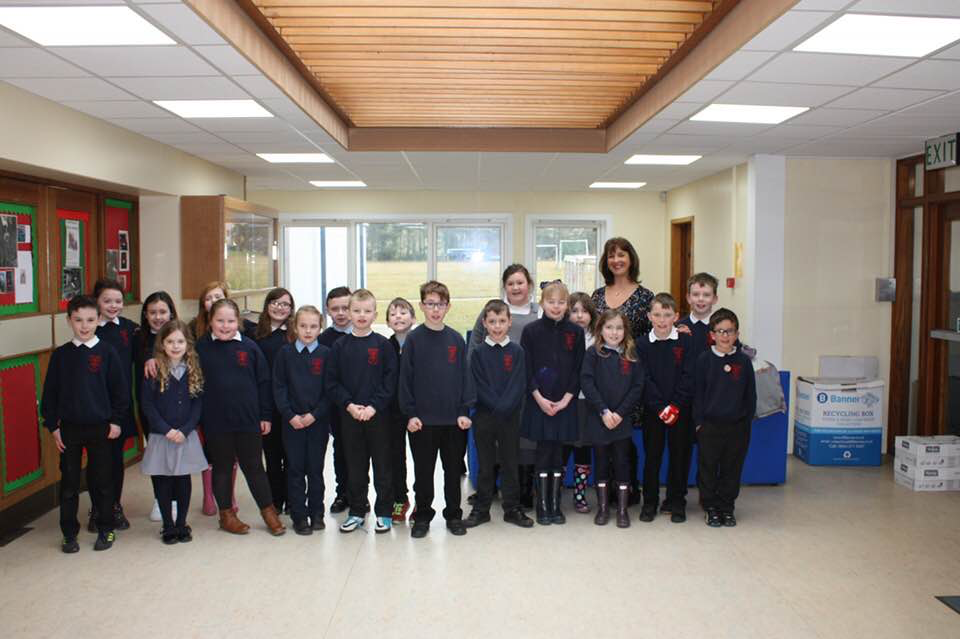 ***
                                          

Portsoy Book Festival
Bin busy visitin loads o different schools as pairt o a Doric workshop wik organized by Aiberdeenshire Libraries and funded by Portsoy Book Festival. The kids hid a fun time writin an performin their Doric sketches. I'm pleased te announce aat Doric is definitely still alive an kickin wi oor younger generation.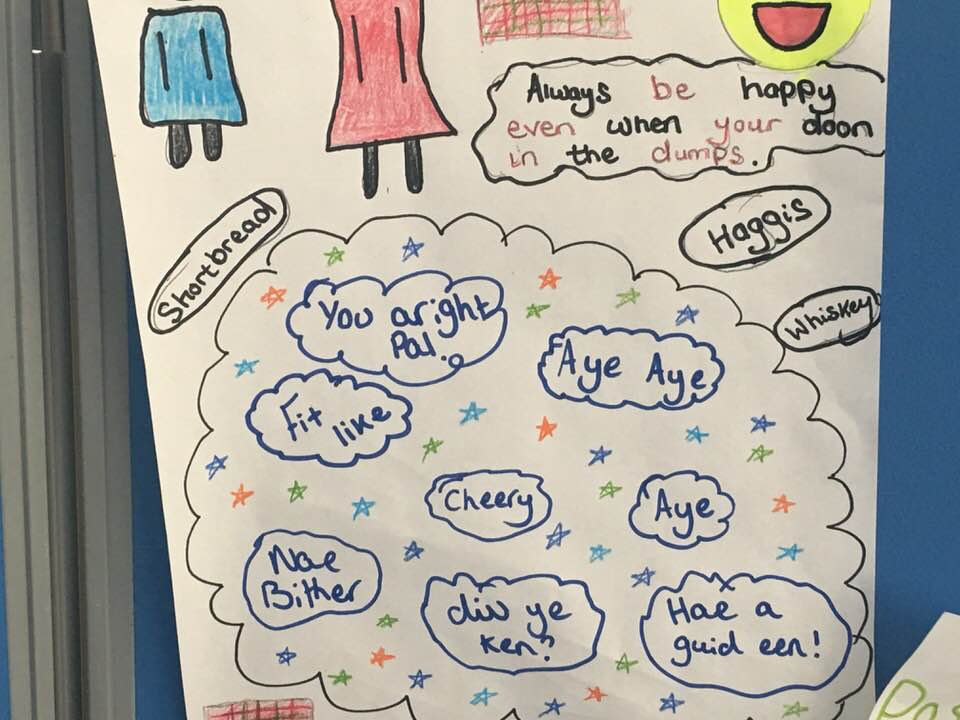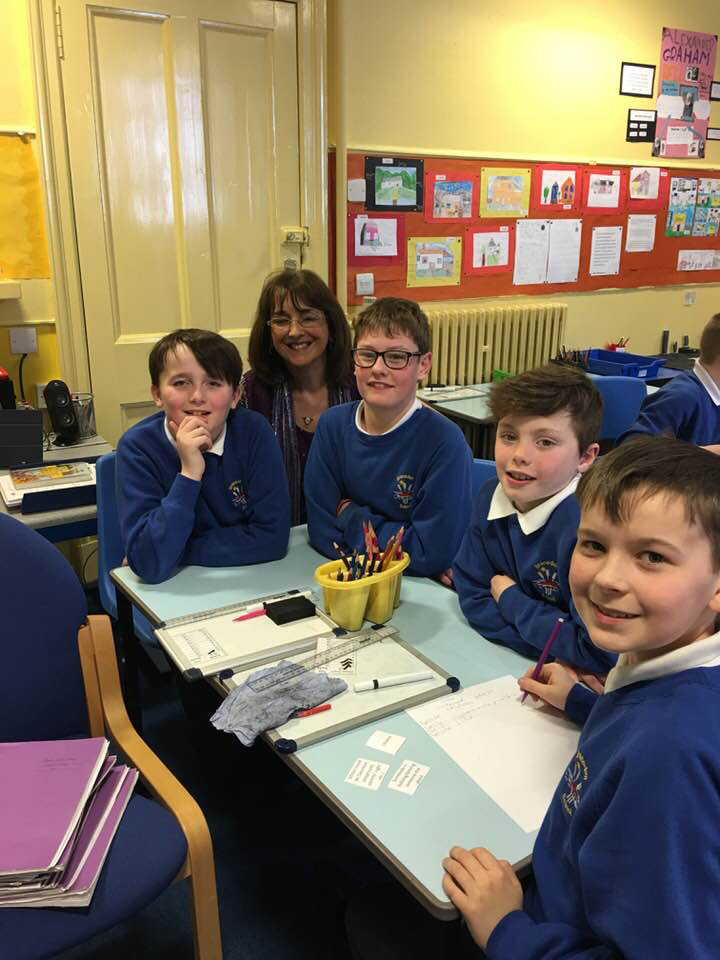 ***
             

Fettercairn Burns Club's annual celebrations
A great night oot deein the Lasses' Reply at Fettercairn Burns Club's annual celebrations. The reef o the Haall at Fettercairn hid faain in, so the pairty wis held in President, Jim Broon's barn – what a fantastic venue!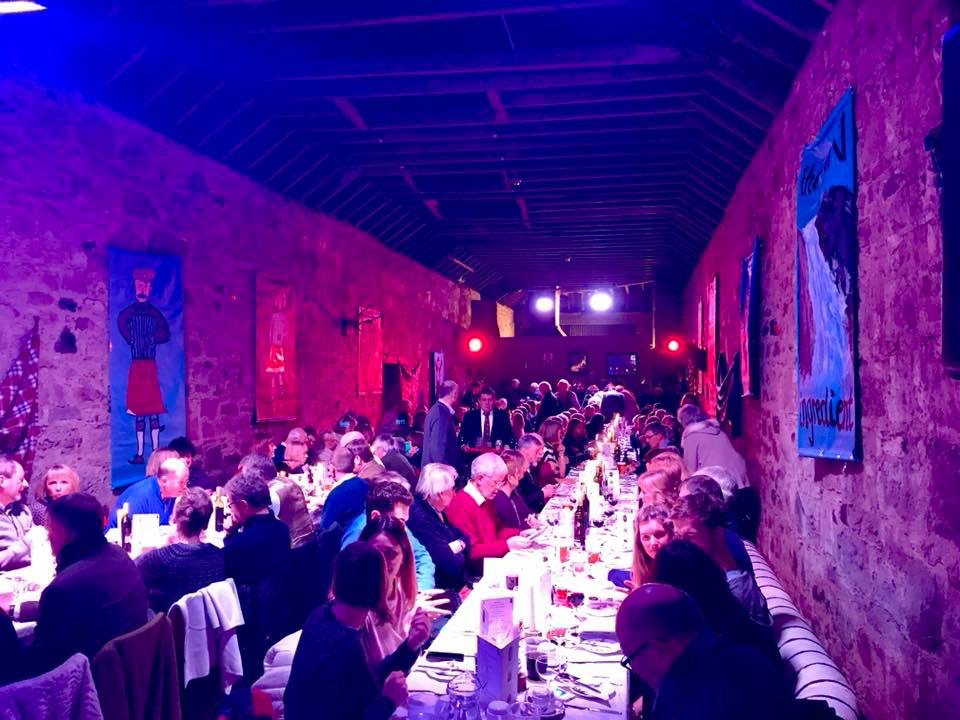 ***
Grand Burns' night at Inverurie Bowling Club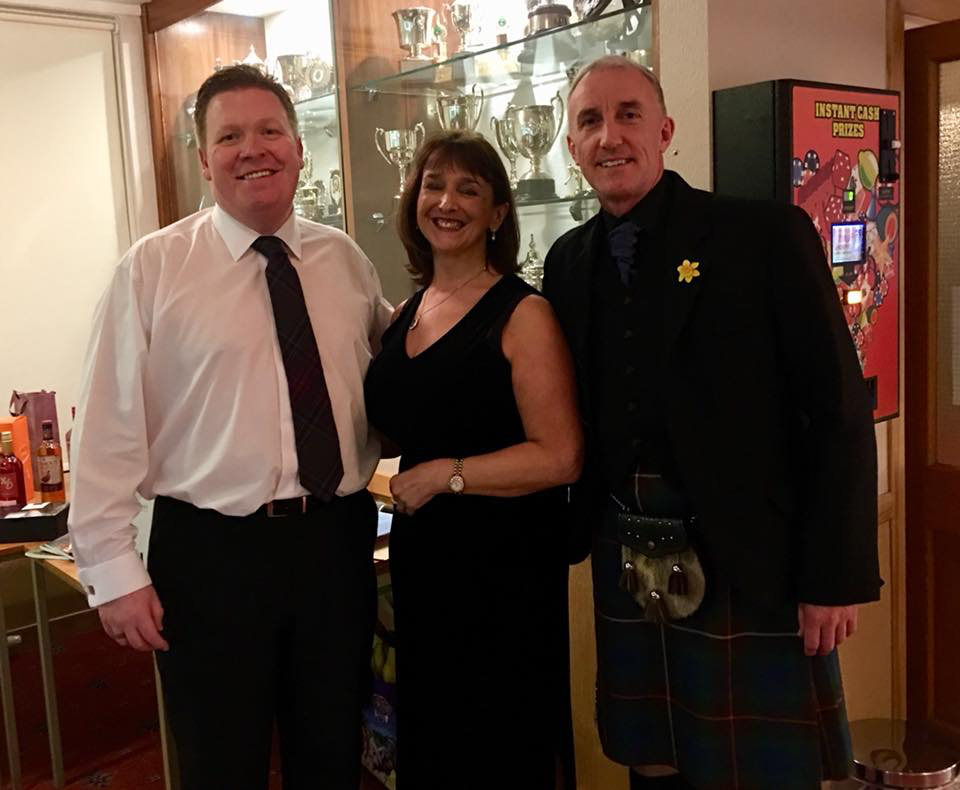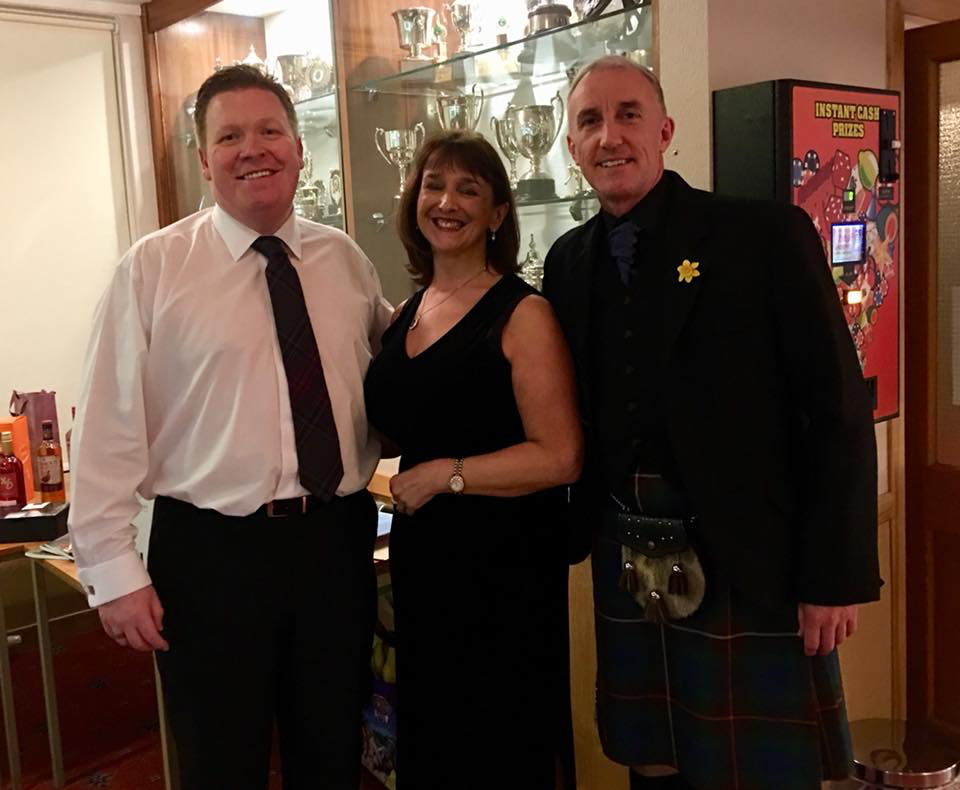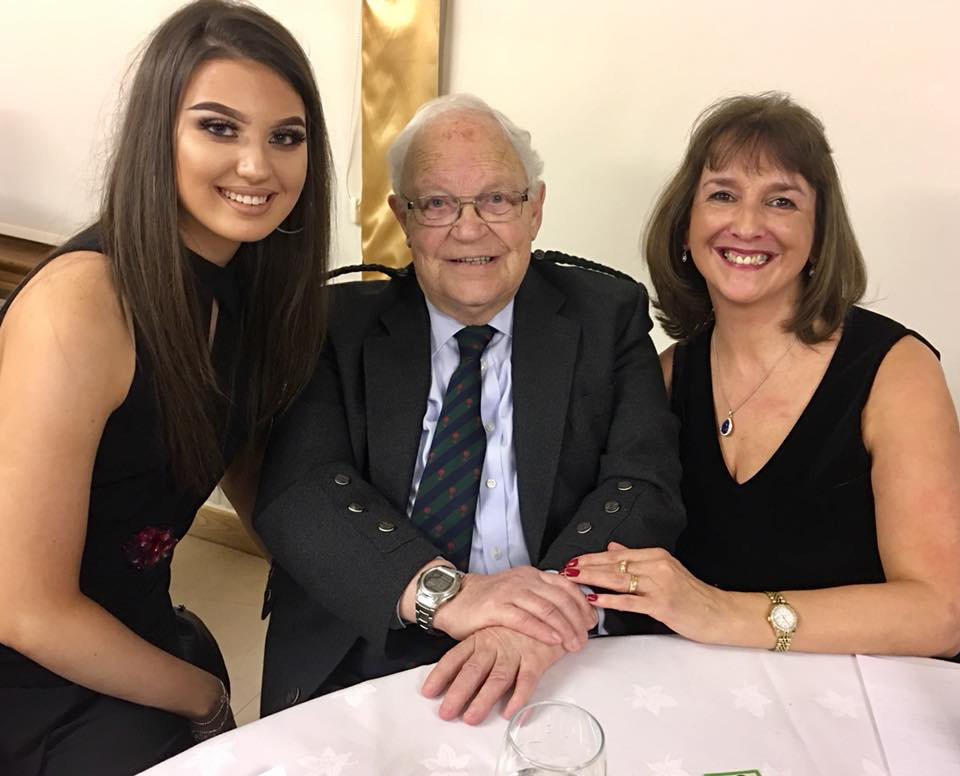 ***
Gettin riddy te gie the mannies a hard time at The Banff Springs Hotel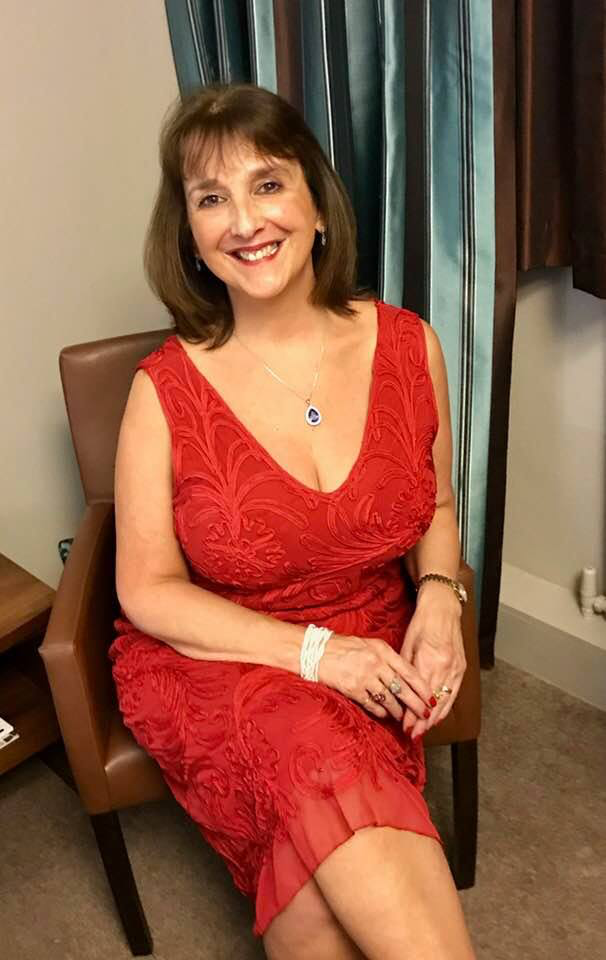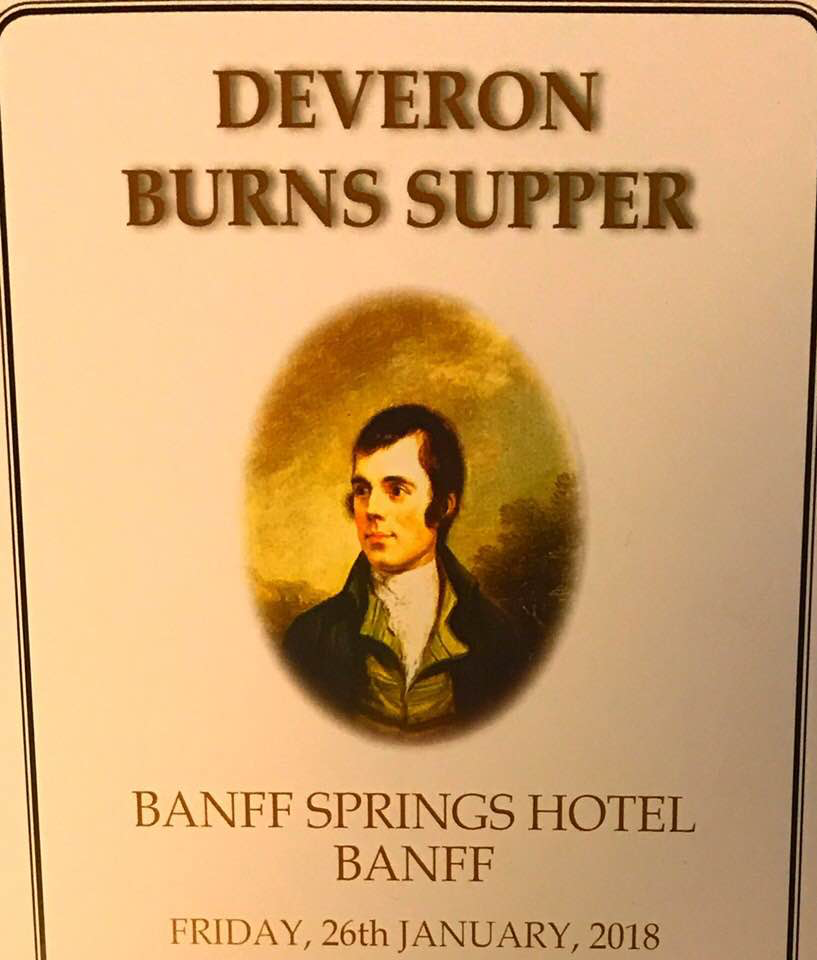 ***
Ian an Ainsley, proprietors o R & S Dyga
Hid a fine runnie te the Broch te meet Ian an Ainsley, proprietors o R & S Dyga. Wi hid a really interestin news aboot Fraserburgh an ither places roonaboot, an I learnt a fyow things I didna ken. Fair trickit te add anither stockist till oor list.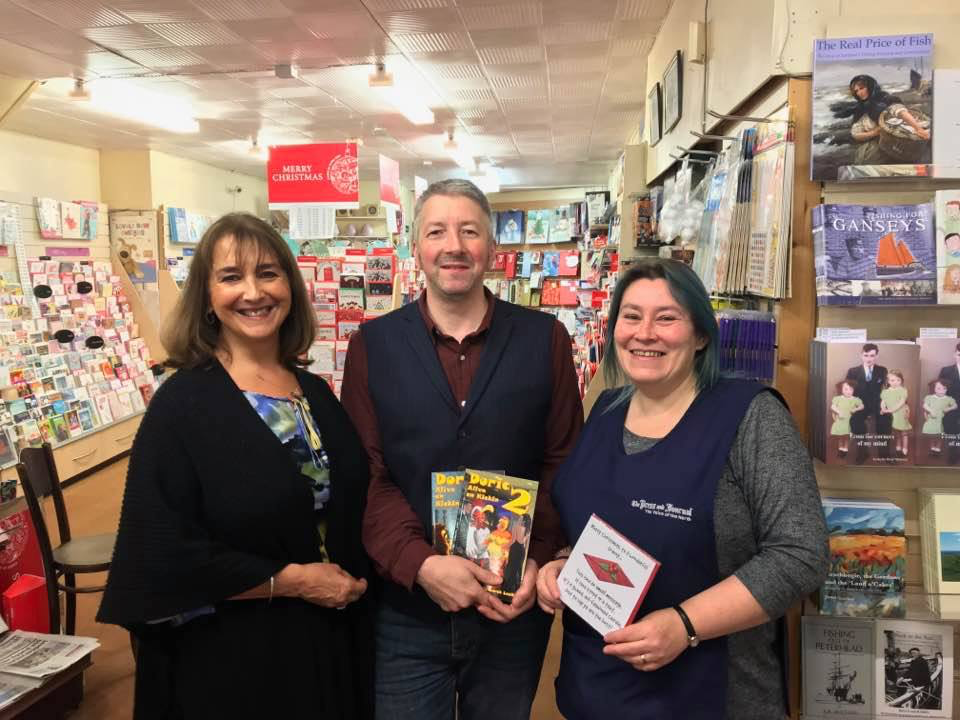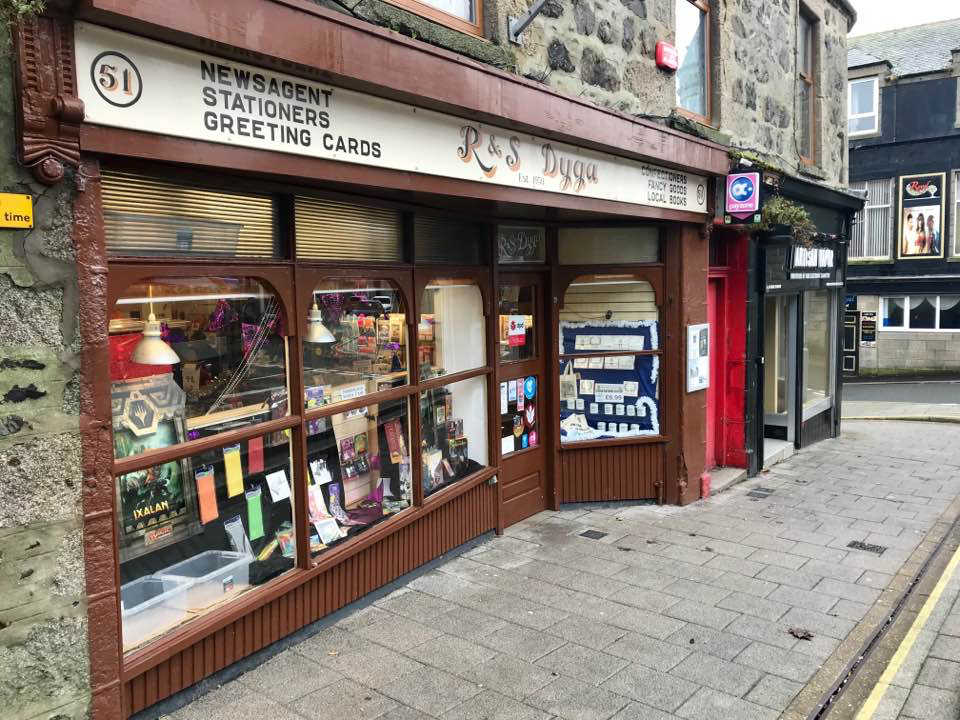 ***
                                          Garioch Reminiscence group's monthly meeting
Had good fun at the Garioch Reminiscence group's monthly meeting. The theme was 'Fashion through the years'. We spoke aboot kipper ties, mini skirts, bunnets, bloomers, the liberty bodice, knitting and dressmaking, jumble sales and hand-me-doons, etc., etc.. Here we have Kenny modelling his ain authentic 1970s flares (very fetching), and Nellie, trying on a heidsquare for size and giein us a knittin lesson.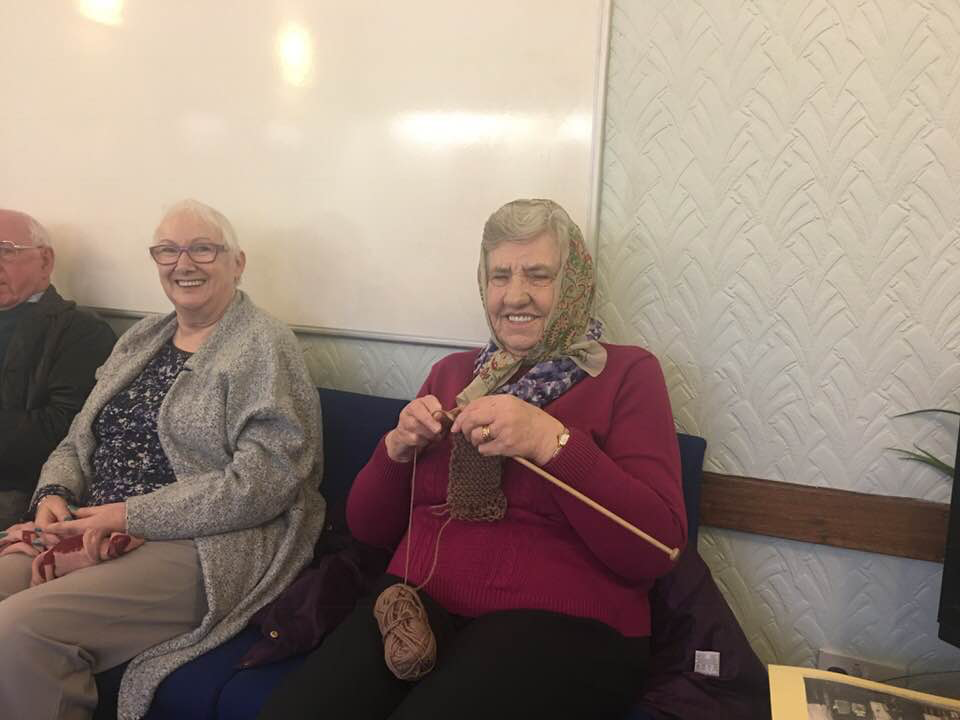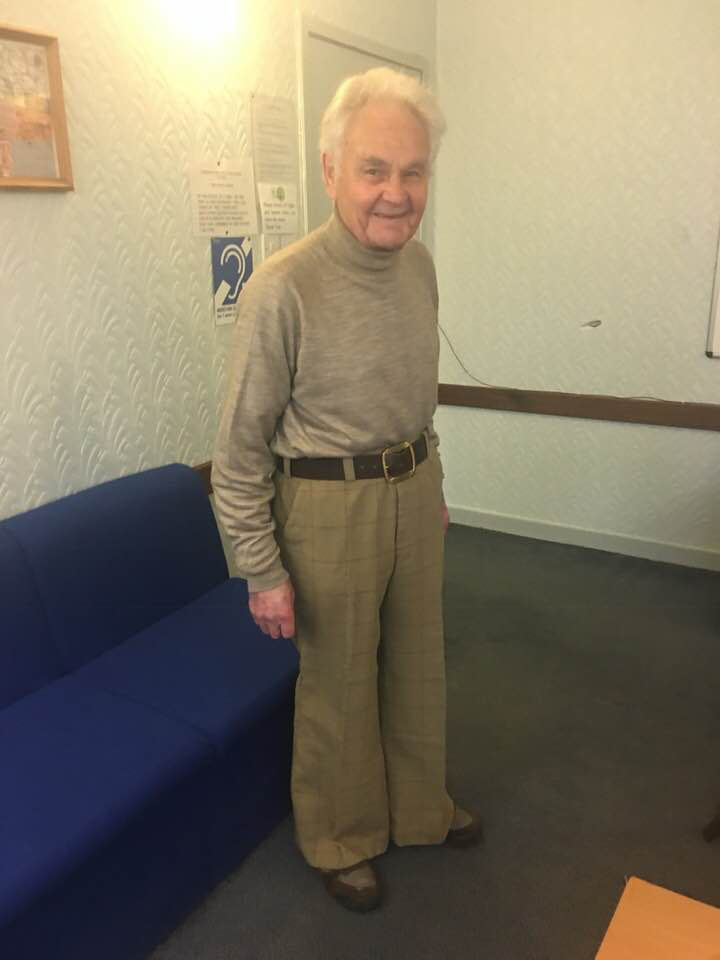 ***
Gran nicht on the winnin team o Aiberdeenshire Libraries' Doric 'Call my Bluff' event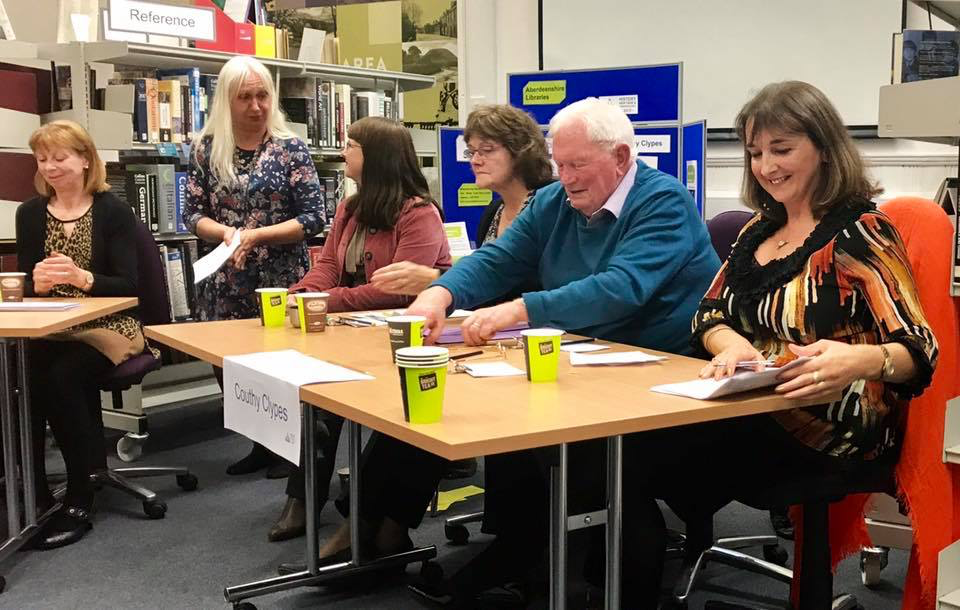 *** 

 

    
Chick Young, Football pundit, journalist, and after-dinner speaker
"…Debbie is a breath of fresh air on the after dinner circuit. She has a special charm about her and that Doric style is ridiculously engaging. I found her really funny and indeed fruity! There is still a massive shortage of female comedic talent at these functions. But believe me…Debbie does dinners…"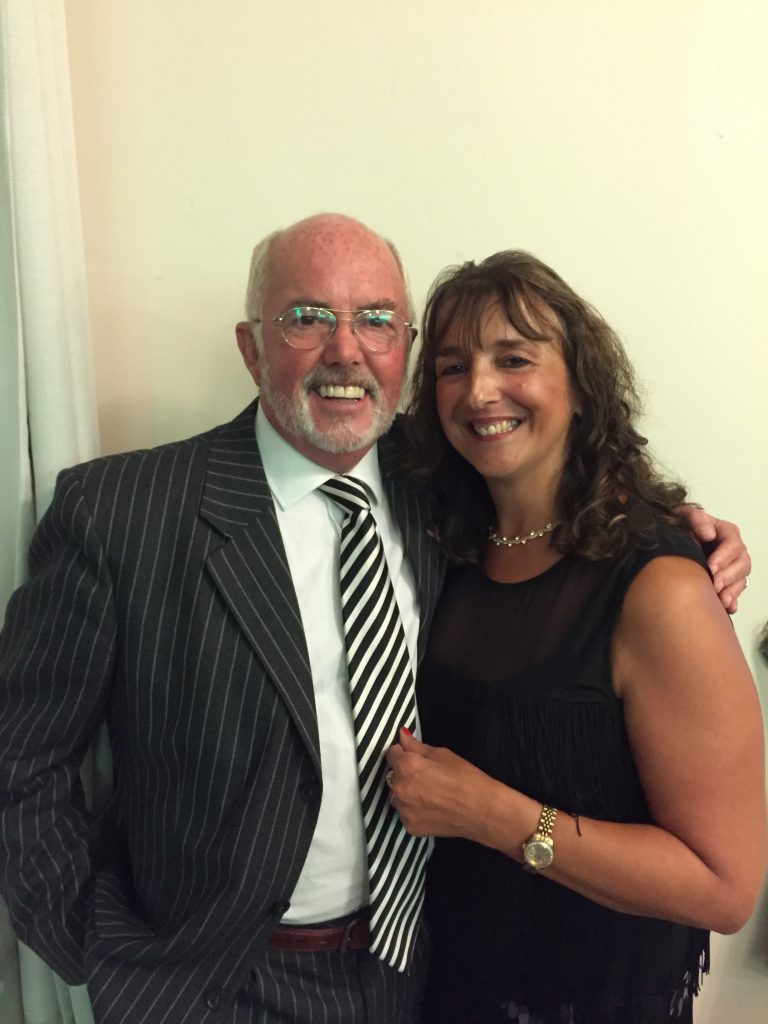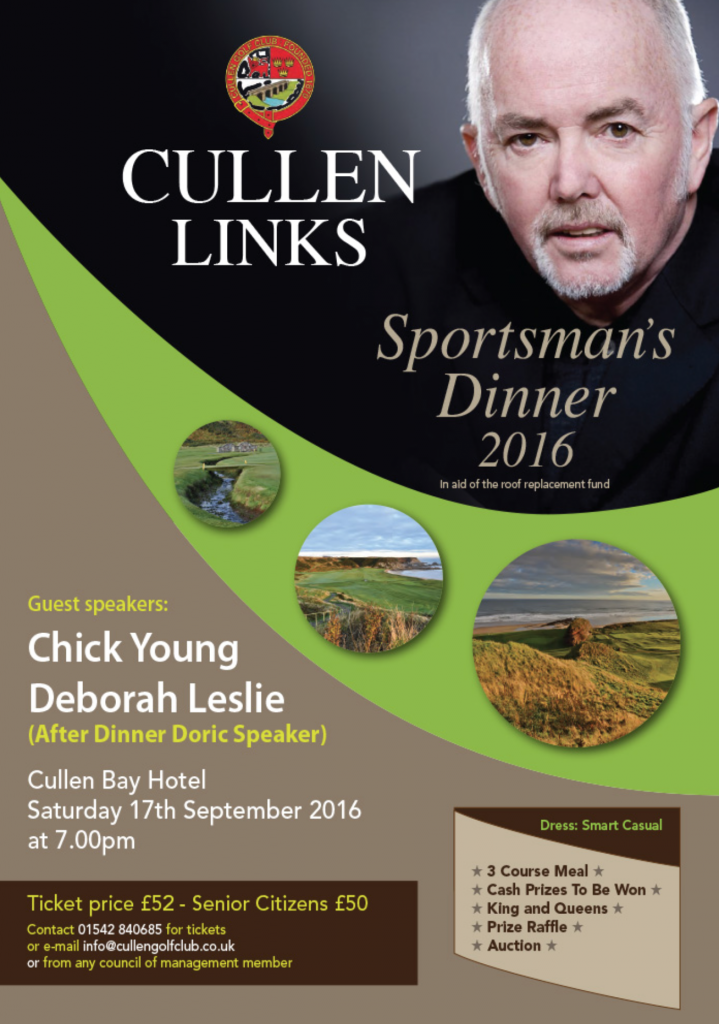 ***
Clockwork Nursery, Altens, Aberdeen.
Had a super time reading to the pre-school children at Clockwork Nursery, Altens, Aberdeen. The children and staff were launching their very own cookbook as part of the 2016 Book Week celebrations.
           

Reader in Residence forAberdeenshire
Deborah has been appointed to the role of Reader in Residence for Aberdeenshire, one of five residences awarded  by Scottish Book Trust and Creative Scotland.
Deborah will work with Aberdeenshire Libraries to promote the enjoyment of reading for all age groups, and provide opportunities to talk about books and reading – including the use of social media.   Events will be held throughout Aberdeenshire in a range of community venues, including sheltered housing and care accommodation, village halls and pre-school settings.   The residency will promote an awareness of  the reading choices available from libraries including fiction and non-fiction, poetry and local history materials, using the written and spoken word to explore the north-east's unique culture and heritage.
≈
Storytelling at Millers, Midmar
≈
To hear an interview with Glenn Moir from Radio Waves, please click on the 'Hale an Hairty' link below. 
≈
PRESS RELEASE
Deborah will also will be reading, Julia Donaldson's, The Gruffalo at our regular monthly Story-telling, between 11am and 12 noon on the same day. 
Deborah Leslie is a published short story writer, children's novelist and prize-winning Doric writer. Since the publication of her first children's novel, Flumphaderries, Flanganans and the Real Book of Bennachie, she has gone on to publish two collections of short stories: Doric – Alive an Kickin and Doric – Alive an Kickin 2, written entirely in the North-east's Doric dialect and, most recently, a second children's novel, The Time-Tailor and the Fyvie Castle Witch Trials.  
Story telling 11am – 12 noon
Book Signing 1 – 3pm 
End of press release.
For further information, please contact
Yvonne Davidson
The Millers Visitor & Retail Centre
01330 83346
books@millersmidmar.co.uk
≈
Deborah will be storytelling for children and adults at the Enchanted Castle Event, Crathes Castle, Aberdeenshire
≈
Deborah's new book 'Doric – Hale an Hairty' is now available in shops and online. This third collection of short stories is written in the rich, expressive tongue of the North-east. 
 "A rib-tickling, riotous, roller-coaster read.'
  Book signings:
Strachans of Inverurie, Sat. 19th Nov. 11am onwards.
Celebrations of Turriff, Sun. 20th Nov. 1-5pm.
Mither Tongue, Keith, Sat. 3rd Dec. 10am – 12
Longmore Hall, Keith, Sat. 3rd Dec. 1.30-4 pm 
 Millers, Midmar, Sun. 4th Dec. 2-4pm
≈
 Deborah will be the after-dinner speaker at the Kintore Pipe Band's 90th birthday celebration dinner and dance at the Thainstone Exchange, Inverurie.  
≈
Aberdeenshire Libraries Prize-giving event sponsored by Total
Deborah provided the opening paragraph for Aberdeenshire Libraries  short story competition and presented the prizes to the lucky winners.
≈
 Deborah won first prize at the Buchan Heritage Festival for her short story, Donald gings te Disneyland.  21.05.11
≈
Deborah will be storytelling at the National Trust for Scotland's 'Going Green' event at Castle Fraser on Mon 13th & Tues. 14th June.
≈
Debbie will be the After-dinner Speaker at Rothie FC on Friday 3rd June. 
≈
LAUNCH OF NEW CHILDREN'S NOVEL
Deborah's latest novel for children was launched at Fyvie Castle. The launch was attended by 90 children from Fyvie Primary School. The group of children (P4-7) enjoyed listening to readings from Deborah's new book and were also given a short tour of the castle.
Picture from Book Launch
REPRINT OF CHILDREN'S NOVEL
Due to popular demand, Deborah has taken delivery of the third print run of her children's book, Flumphaderries, Flanganans and the Real Book of Bennachie .
The book was first published in 2003 by Argo Publishing and sales have exceeded all expectations. The book is now available again and Deborah is looking forward to introducing the story to a whole new group of children.
The novel is an up-to-date fantasy adventure where all the action takes place in, on and around the slopes of Bennachie: one of the North-east's most famous natural landmarks.
PLAY COMPETITION
In Dec. 2008, Deborah's play, The Clock on the Waa, was produced and performed as part of the WAC New Play Season at Aberdeen's Lemon Tree theatre.